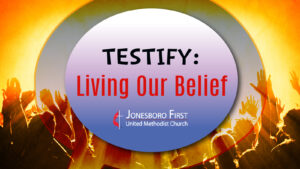 Jesus appears to Mary Magdalene and then to two disciples.
The others refused to believe until Jesus joins them for a meal.
He tells them to go into all the world and preach the gospel.
Are we living like we believe?
Join us Sunday at 11 a.m., in-person and virtual on Facebook Live,
as the current sermon series continues.
The information on this site is the property of Jonesboro First UMC. No broadcasting or duplication of any sermons allowed without permission.
CONTACT US
Jonesboro First United Methodist Church
Email: webadmin@jonesboroumc.com