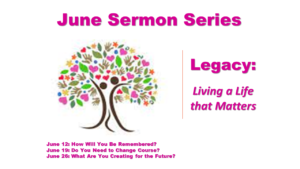 What will your legacy be?
Have you ever thought about what your legacy will be in your family, church and community? How will we be remembered by those who come after us? What can we do now to leave a wonderful and joyous legacy? We'll be discussing these questions by looking at the lives of the Old Testament kings for the next few weeks. Join us at 11 a.m. in person or on Facebook.
In person and Virtual on FB Live
Sunday School begins at 9:40 a.m.

The information on this site is the property of Jonesboro First UMC. No broadcasting or duplication of any sermons allowed without permission.
CONTACT US
Jonesboro First United Methodist Church