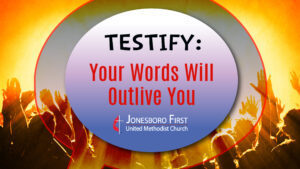 John testifies to what Jesus did by writing his gospel.
What testimony are we leaving behind for others?
Join us Sunday at 11 a.m., in-person and virtual on Facebook Live,
as the "Testify" sermon series continues.
The information on this site is the property of Jonesboro First UMC. No broadcasting or duplication of any sermons allowed without permission.
CONTACT US
Jonesboro First United Methodist Church
Email: webadmin@jonesboroumc.com