We'd love to help you find a place to serve. If you'd like more information about our ministries,
please call the church office at (770) 478-6444.
Where Can I Serve?
Jesus told us to love God and our neighbor. One of the most important values of this church is our mission and outreach to our community and the world. Church members are involved in a variety of ministries from helping feed our community to making prayer shawls and blankets for those experiencing hardship. Our Food Co-op distributes more than 100,000 pounds of food locally every year.
For a list of our mission and outreach opportunities, click here.
Worship
We strive to have vibrant worship services that magnify the name of Jesus Christ. Our 11 a.m. worship service features the joyful sound of our talented choir, and they would love to welcome you as a member. We also have an orchestra that plays the third Sunday of each month during the school year. These vocalists and musicians are an important part of the ministry of our church, using their talents and gifts to glorify God.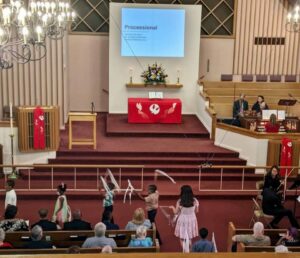 Media & Technology
Using media to spread the gospel is a privilege of this church. We use technology to help build God's kingdom, including uploading the audio of weekly sermons to our website. We have a weekly newsletter that you can subscribe to by sending your email address to communications@jonesboroumc.com. We also maintain an active Facebook page for additional church communication.
Prayer Warriors
Prayer is one of the great privileges that God gives us. We pray for one another, for our community and for our world. During each service, a volunteer prays for the service and those attending. Throughout the week, our Prayer Warriors team prays for our pastor, a list of church members, any special requests, and missionary prayer needs.