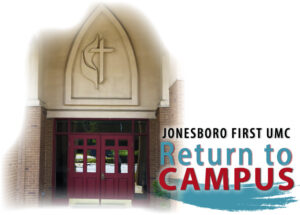 the
GUIDELINES FOR IN-PERSON WORSHIP
Those who have symptoms of illness or who have been recently exposed to the virus should remain home and worship online.
Masks will be required. Masks can help prevent the spread of COVID-19. We encourage you to bring your own masks, but we will have some available for those who need them.
We will use no-contact thermometers to check temperatures of everyone attending and leading worship. Those with a fever higher thank 100.4 will be asked to return home.
We will practice social distancing and remain 6 feet apart from those not living in our household. Our ushers will help us find seats, and many of us will not be able sit in the places we've come to think of as ours. Ushers will seat people in the middle of an empty pew first and then seat people on the ends so that we can maintain social distancing requirements.
Because of social distancing guidelines, we will not greet one another with handshakes, hugs or kisses. We will not have a congregational greeting time during the service, but we can still welcome one another with warm words of greeting.
We will sit in every third pew. The others will be roped off to ensure that we comply with social distancing.
Our ushers will dismiss us by rows at the end of the service and direct us to a specific exit. This will help us maintain social distancing as we depart.
All items (including Bibles, hymnals and other materials) have been removed from the pew backs. These items cannot be sanitized between services. We will continue to show hymn lyrics and scripture on the screens as we always have. Ushers will distribute prayer request cards during the service as needed.
We will not have a choir for the foreseeable future. While we may be able to have a small ensemble, it is logistically impossible to have a full choir at this time.
We will not have congregational singing during this season. Music is an important part of worship, and it's hard to imagine worship without congregational singing. However, studies show that aerosolized droplets can penetrate masks, making singing a high-risk activity. Six feet of social distance is not enough to prevent the spread of the virus while singing (even softly) or humming. We are looking for other ways that we might experience our beloved hymns.
We will not pass out bulletins or other materials during this time. We will send out a brief order of worship in a special Saturday morning Light on the Corner each week. If you are not receiving the Light on the Corner weekly newsletter, please contact communications@jonesboroumc.com.
We will not pass an offering plate but will instead have baskets for your gifts set up at the exits. Thank you for your faithfulness during this challenging season. You can continue to give online at jonesboroumc.com/give.
We will continue to celebrate Holy Communion on the first Sunday of every month and will use pre-packaged communion elements.
Submitted by members of the Return Committee:
Rev. Valerie Loner, Senior Pastor
Dr. Kurt-Alexander Zeller, Choir Director
Kini Burrell, Building Superintendent
Byke Ikwuakolam, RN
Karen Isaacson, Retired RN and Recording Secretary
Edie Wade, LVN and Church Council Chair
Bryan Holmes, Lay Leader
Claudia Bullington, Worship Committee Chair
Todd Williams, Trustees Chair
Tommy Roberts, Head Usher, 11 a.m.
Jule Segner, Head Greeter, 11 a.m.