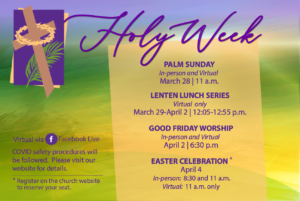 Join us for Easter worship!
Registration for reserved seating for Easter services is closed. You are welcome to join us. If we are at capacity when you arrive, you will be directed to our overflow area in the Christian Activities Building (CAB). Have a wonderful Easter!
IN-PERSON: 8:30 and 11 a.m.
Here are some of our COVID safety procedures:
We are practicing social distancing. Everyone should remain 6 feet away from those not in their households. Ushers will seat and dismiss us. We will not be able to sit in our normal seats, so we must be flexible.
Everyone over age 2 must wear masks. We encourage you to bring your own, but we will have some available for those who need them.
We will check the temperature of everyone entering the building. Anyone with a temperature of 100.4 or higher will be asked to return home and worship online.
We will collect names and email addresses for those attending in person so that we can do contact tracing if the need arises.
We will not be able to have congregational singing in the near future.
There will be no Sunday School or Children's Church at this time.